NOTE: This kit includes a DIY inductor. The inductor has 4.5 turns and you need to scrape off the leads of the inductor before soldering to the circuit board.
This is yet another simple and low-cost do-it-yourself(DIY) FM transmitter kit for electronics beginners. It picks up sound from any audio source and transmits to an FM radio. You can tune your FM receiver within the frequency range of 88-108Mhz. This kit is very much similar to our FM transmitter. It has a CR2032 cell holder that is enough for powering up the kit.
You CANNOT use the inductor to adjust the transmission frequency of the kit. The transmitter will transmit voice to a fixed frequency and it is not stable, meaning, it will transmit to different frequencies once it is turned off. However, you can make this for fun and learn how this thing works.
Transmission Range: 10 meters inside a room and 50-100 meters in open space depending upon the type of antenna used in your transmitter and radio.
Power supply: Works with CR2032 3V cell.
The schematic of the transmitter: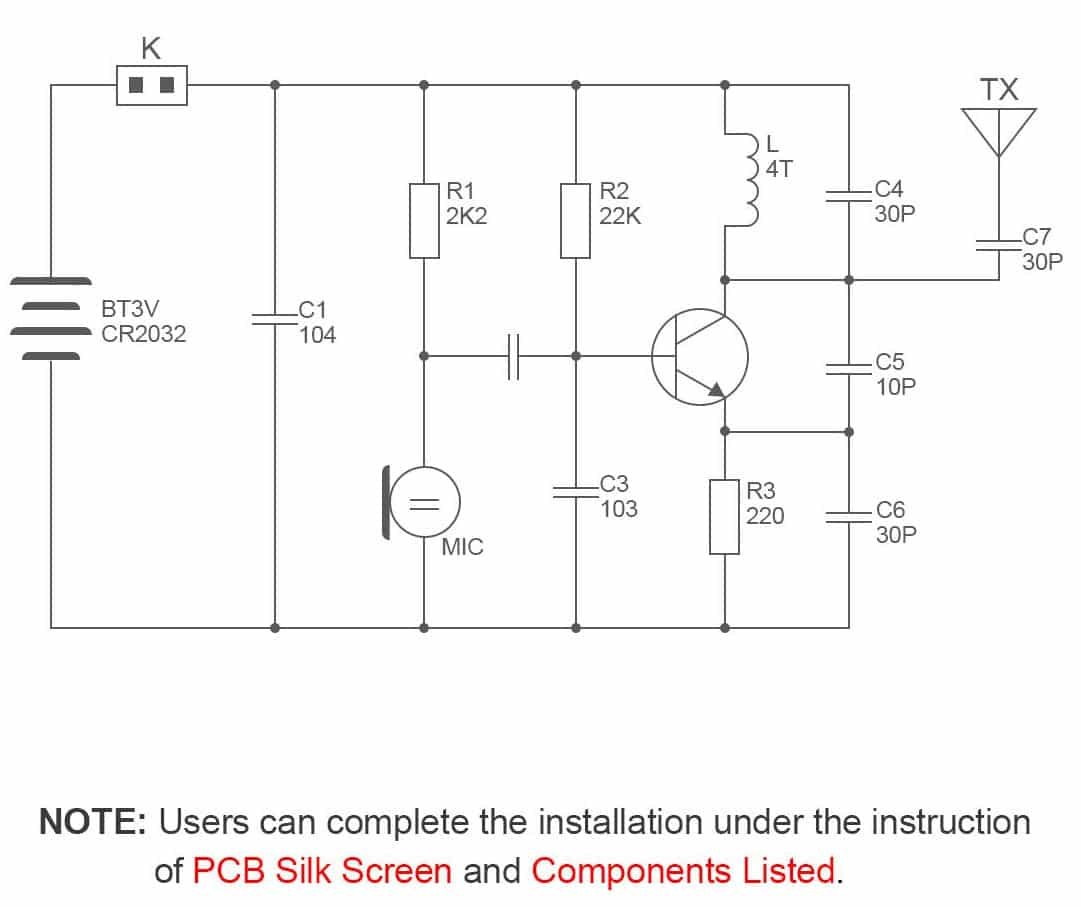 The transmission range depends upon the open area, length of antenna, and power.
Soldering is very straight forward. PCB has a clear silkscreen that should guide to solder the components on the right spot.
NOTE: Be careful with the polarity of the electret microphone
The kit package includes the following components:
1 x 2.2K Ohm resistor
1 x 22k Ohm resistor
1 x 220R Ohm resistor
1 x S9018 transistor
1 x 10pF capacitor
3 x 30pF capacitor
1 x 0.01uF capacitor- code 103
2 x 0.1uF capacitor- code 104
1 x SPDT switch
1 x CR2032 cell holder
1 x Inductor (4.5 turns) Watch this video
1 x 20cm antenna wire
1 x PCB
Package includes: 1 x FM transmitter DIY kit components with a battery holder
Assembly tutorial: