TSA6175 is a Bluetooth 5.0 multipoint audio receiver. You can have many TSA6175 paired and make them work together. You can also let it work like a normal standalone Bluetooth audio receiver. This Bluetooth music receiver connects to the Line-In or Aux input on your home audio system. You can then stream audio from your Bluetooth enabled cell phone or mp3 player to your home audio system.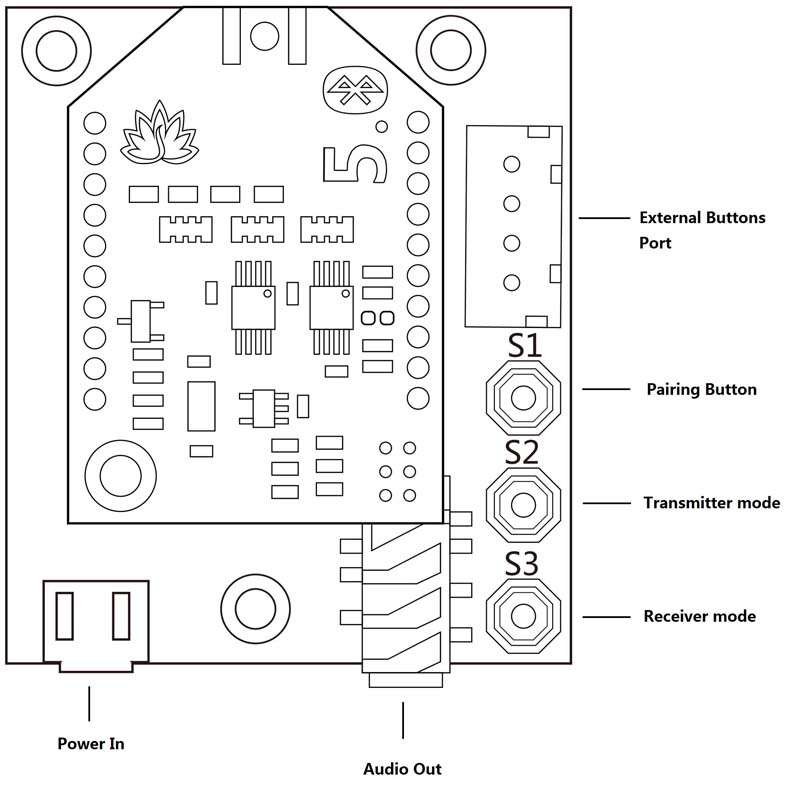 If you have audio systems in different room, you can use multiple TSA6175 audio receiver boards and connect all of them together. When your smartphone connect to the master module and play music, all audio systems have audio output. TSA6175 keeps the pairing info in its memory. You don't need to pair them each time you turn the module on.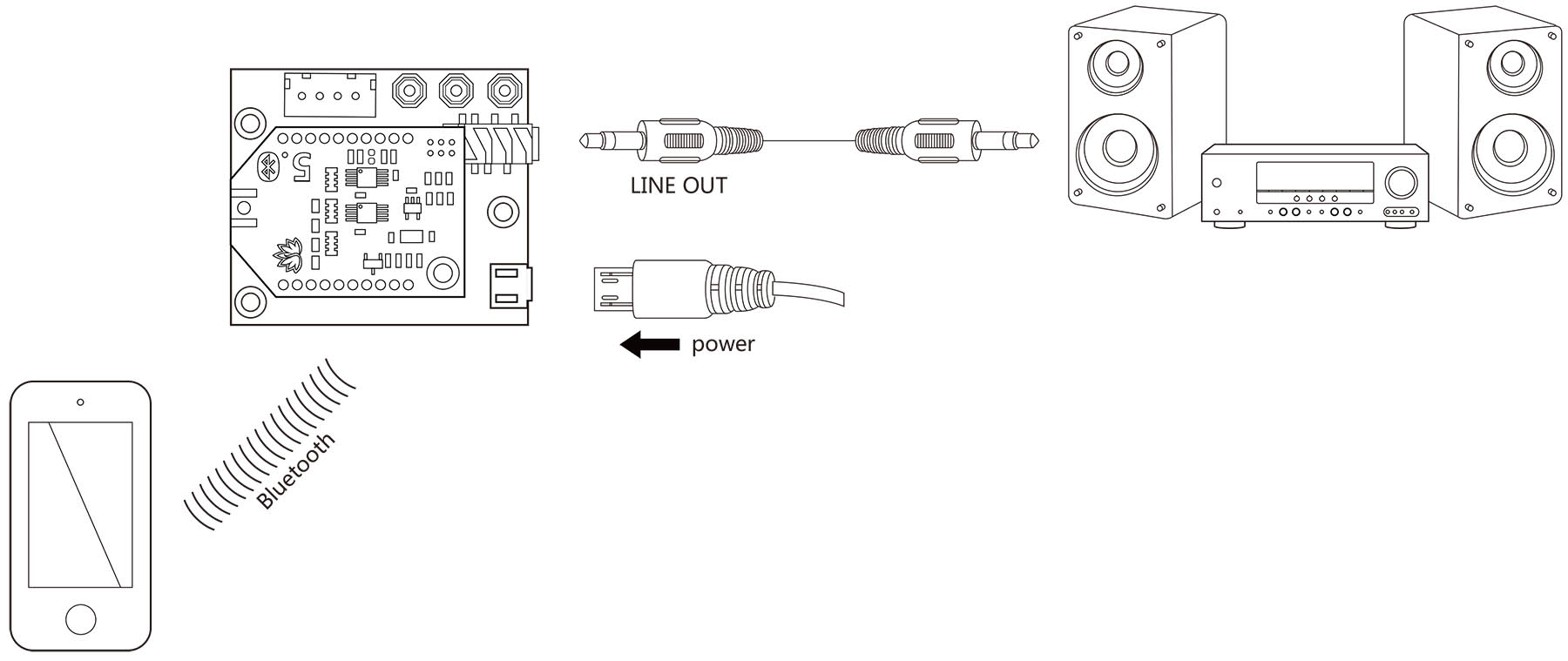 One board works like a normal receiver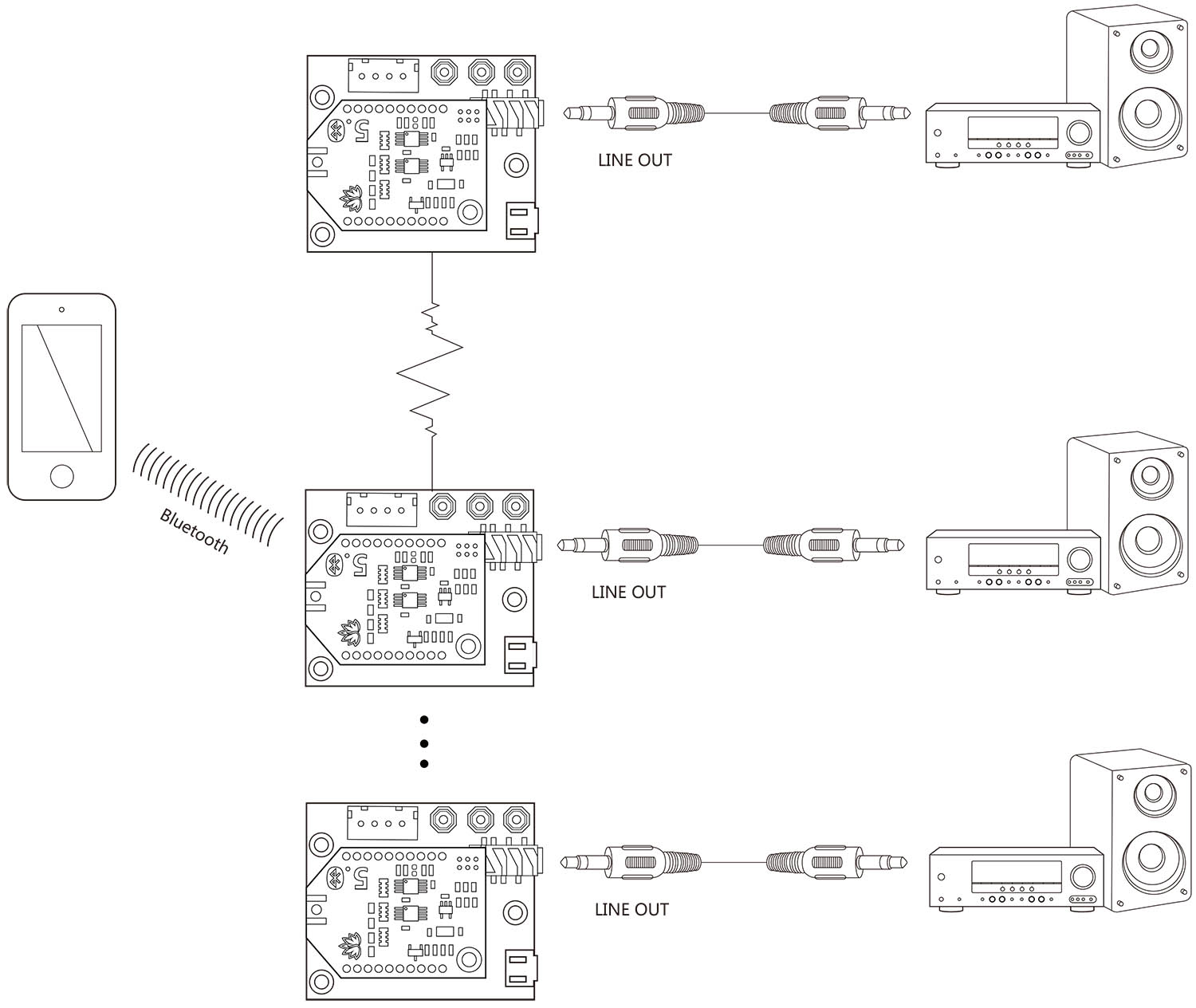 Multiple boards work together
How to Use:
Master module:
Power up the module, Blue LED will blink slowly.
Double press S1 to set the module into pairing mode. Blue LED will blink fast(Voice: Pairing).
Your smartphone will then be able to find a new Bluetooth device which has name as "CSR8675". Connect it.
You can play the music now. If you only use one module as a normal receiver, you don't need the previous steps.
If you want to connect a number of salve/receiver modules, press S2 and set the module into transmitter mode (Voice: transmitter mode)
Slave module:
Power up the module, Blue LED will blink slowly.
Make sure master module is already working correctly and it is in transmitter mode. Press S3 to set the salve module into receiver mode. It will auto search the master module(Voice: receiver mode, searching).
Double press the S2 on the master module. The master module will then auto search(takes about 30s and plays voice 'searching') slave module. Both master and slave module will then be connected.
The slave module will play music out now.
If there is again a new module you want join as slave module. Just press S3 on the new module and double click S2 on the master module.
If a slave module wants to quit, simply click S2 on that module.
Note: If you don't hear the voice prompt when you press S2, please press the S3 to switch the mode and then click S2 again.
Features:
Size: 44*38*11mm
Multipoint connection
Bluetooth 5.0

Qualcomm cVc audio technology

Qualcomm TrueWireless Technology

Stereo receiver

Effective transmission distance: 10-15m

Micro USB female port for powering the receiver from any USB power source (5V DC)
Compatible with all Bluetooth devices that support media audio, including iPhone
Documents: