TSA7499B is designed for audio amplifier manufacturing factories or DIY electronics makers/users.
Bluetooth/LINE IN select switch and audio input ports are designed with JST connectors. That allows users to install this amplifier board in a box and connect an external switch and RCA/3.5mm audio jack plug to make their own audio amplifier.
TSA7499B can also connect with our TSA1000 external audio volume control board. Users can adjust the audio volume by rotating a real knob.
TSA7499B is a 2 x 100W audio amplifier board with a new AudioB plus Bluetooth module that supports Apt-X. It has integrated ST high-performance TDA7498 which support dual channel audio amplification.
Both of the channels are capable of outputting nominal power simultaneously and continuously. This board can be powered by any DC 14V-39V* power supply. It has a smart cooling system, the fan does not work in normal condition to eliminate noise. The fan only starts when the chip temperature exceeds 65°C.
It is perfect for your Hi-Fi application, the audio source can be cable input or Bluetooth. You may wish to pair up the amplifier with a mobile phone or a computer that has Bluetooth function. Power up the amplifier board, use your phone or PC to search for a new Bluetooth device, the module will appear as "TSA7499B", you can simply pair it up without PIN. Yes, it connects automatically with your device.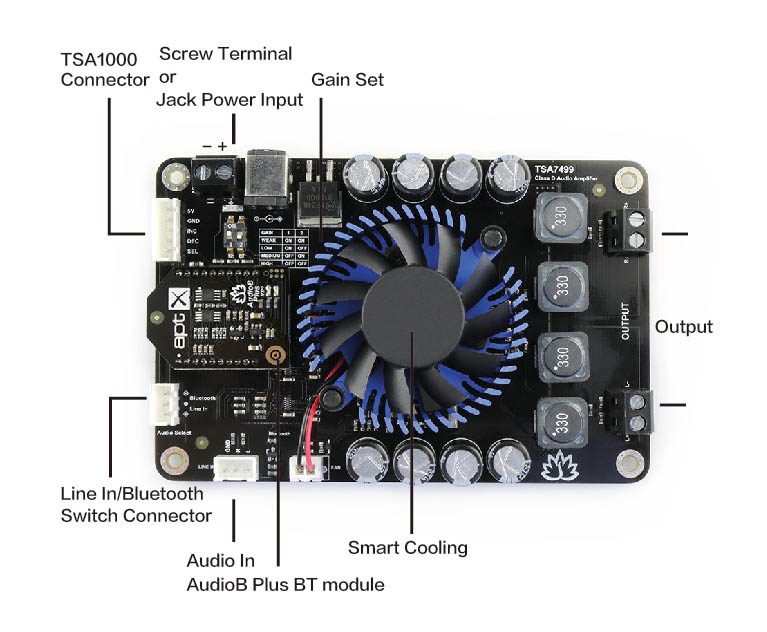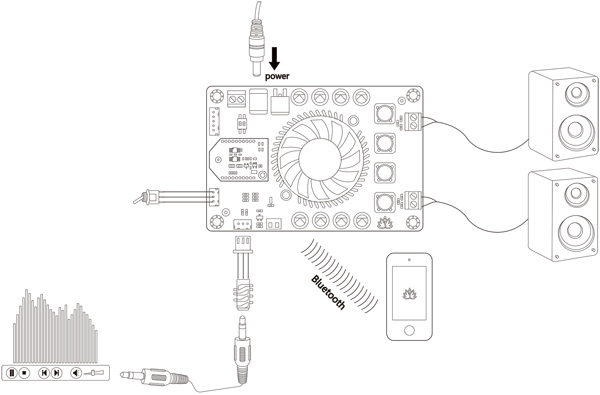 Basic connection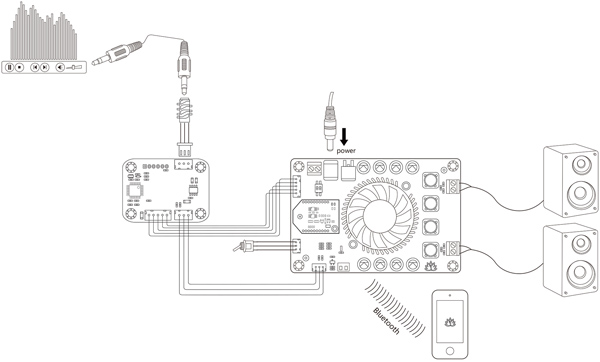 TSA7499B with TSA1000 based external volume control board
Note: We test all the devices before shipping. It also works well with 12 VDC power. But we suggest using DC 14V-39V power if possible.
Note: If you connect a TSA1000 with this amplifier board, the power input cannot be more than DC 24V.
Specification:
The following table lists all typical data of the amplifier board. For full specification, please refer to the datasheet of ST's TDA7498 chip.
TA = 25 °C, fIN = 1 kHz sine wave, RL= 6Ω, VCC = 36V. (Unless otherwise stated)
Parameter

Condition

Min

Typ

Max

Supply Voltage (v)

–

14

36

40

Quiescent Current (mA)

FAN ON,STBY Disable

–

90

–

FAN ON,STBY Enable

–

50

–

FAN OFF,STBY Disable

–

40

FAN OFF,STBY Enable

10

Input Sensitivity (mV)

25.6dB

–

1356

–

31.6dB

696

35.1dB

460

37.6dB

341

Input Impedance (Kohm)

–

48

60

–

Gain (dB)

GAIN0 = L, GAIN1 = L

24.6

25.6

26.6

GAIN0 = L, GAIN1 = H

30.6

31.6

32.6

GAIN0 = H, GAIN1 = L

34.1

35.1

36.1

GAIN0 = H, GAIN1 = H

36.6

37.6

38.6

Output Power (W rms)

THD = 10%

–

100

–

Efficiency (%)

Both channels output rating power.

–

>90

–

Minimum Load (ohm)

–

–

6

–

Frequency Response (dB)

±3dB

20

–

22k

Operating Temperature (℃)

–

0

20

50
Features:
Dimensions: 122mm x 80mm x 18.6mm
aptX, aptX Low Latency, SBC and AAC
A smart cooling system that turns automatically whenever required.
Bluetooth 4.2
An external mute control port
Working voltage: DC 14V-39V (without TSA1000) and DC 14V-24V (with TSA1000)
Over/under voltage protection
Overcurrent protection
Over temperature protection
Applications:
Personal computer
Background music system
Musical instrument amplifiers
Home DIY music system
Car audio
Documents: