This kit is designed for amplifier manufacturer and DIY users. A volume knob, weatherproof panel mount LED and a TSA2210 amplifier board is included in this kit. Users can adjust the Bluetooth audio volume either on the smartphone or turning the real knob physically. You can power this kit with a 12V DC power supply or a 12V batttery. The LED indicates the ON/OFF state and the battery voltage state. User can install this kit in a box easily and make their own audio amplifier product.
TSA2210 is a 2x8W class D audio amplifier board integrated with Bluetooth 4.0. It has perfect class-D architecture(based on TPA3110D2) and every channel has 8W power output. This board can be powered by any DC 8V-16V power supply. It can be used to drive any 4Ω or 8Ω passive speakers. The Bluetooth audio volume control circuit is also integrated on this board. Turning the knob in clockwise direction will increase volume, turning the knob in counterclockwise direction will decrease the volume. Clicking the knob will turn ON/OFF the amplifier.
It is perfect for your Hi-Fi application, the audio source can be cable input or Bluetooth. You may pair up the amplifier with a mobile phone or a computer that has Bluetooth function.
Power up the amplifier board, use your phone or PC to search for a new Bluetooth device, the module will appear as "BT Speaker", you can simply pair it up without PIN. Yes, it connects automatically with your device.You can then play your audio.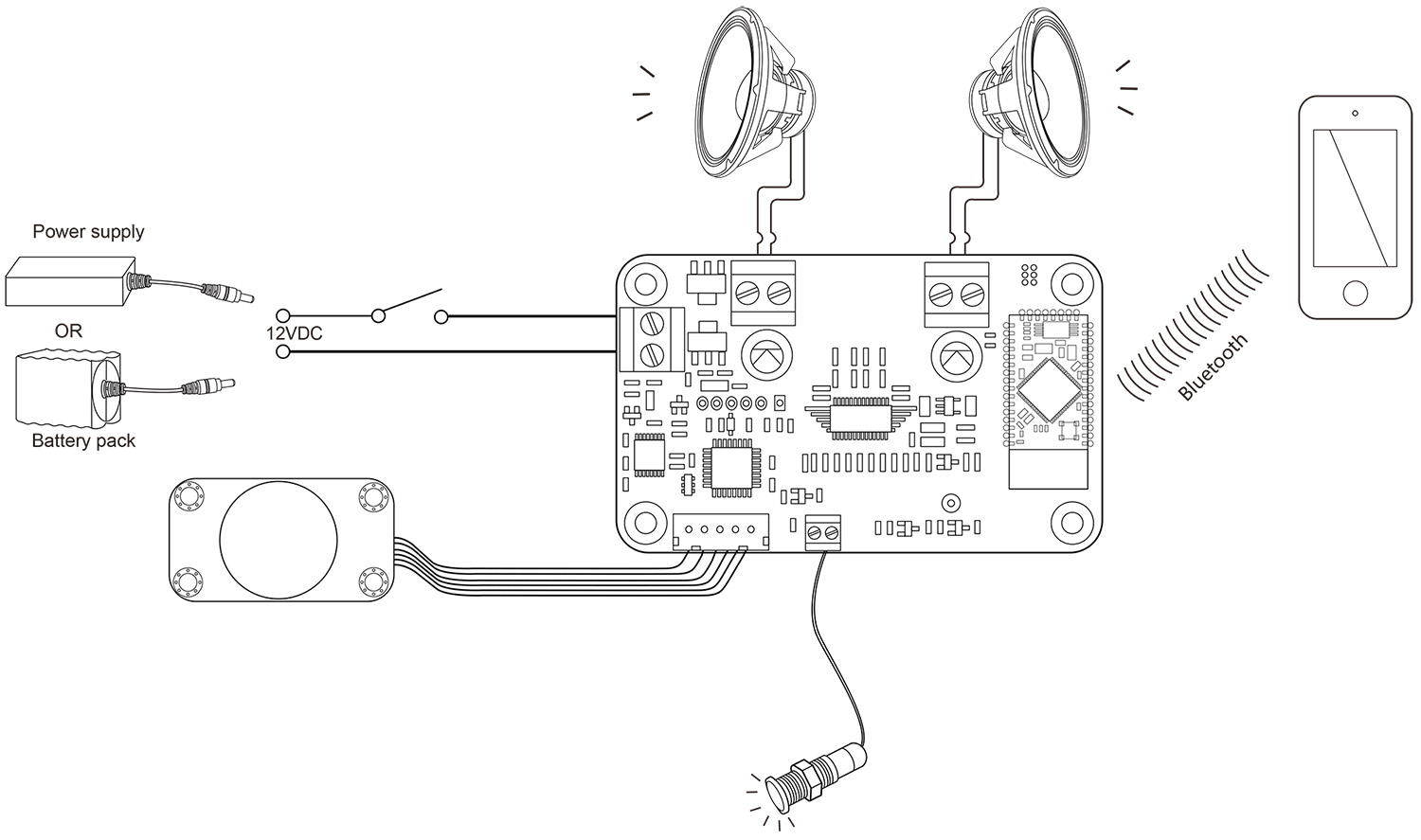 Note:  When the power voltage <10.3V, the amplifier board will auto turn off and goes into standby mode. If you click the knob to turn it on again, the LED will blink 3 seconds and turn off again.
Specification:
TA = 20℃, fIN = 1 kHz sine wave, RL = 4Ω. (Unless otherwise stated)
| | | | | |
| --- | --- | --- | --- | --- |
| Parameter | Condition | Min | Typ | Max |
| Supply Voltage (V) | – | 8 | 12 | 16 |
| Quiescent Current (mA) | SD = 2V, No load, Vcc = 12V | – | 20 | 35 |
| Input Sensitivity (V) | Gain = 26dB | – | 0.283 | – |
| Input Impedance (Kohm) | – | – | 30 | – |
| Gain (dB) | – | | 26 | |
| Output Power (W rms) | THD+N = 10%, Vcc = 12V | – | 8 | – |
| Efficiency (%) | Vcc = 12V, RL = 8Ω, PO = 5W | – | 86 | – |
| Minimum Load (ohm) | – | 3.2 | 4 | – |
| Frequency Response (Hz) | ±3dB | 20 | – | 22k |
| Operating Temperature (℃) | – | -40 | 20 | 65 |
Kit contents:
1 x TSA2210 Bluetooth audio amplifier board
1 x Volume knob
1 x Weatherproof panel mount LED (Green)
1 x Ribbon cable
Features:
Size: 4.8cm x 8cm
Bluetooth audio volume control
Working voltage: DC8V-16V
Standby current: 0.12mA@12VDC
Over/under voltage protection
Over current protection
Over temperature protection
Bluetooth 4.0
Applications:
Personal computer
Desktop amplifier
Microphone preamplifier
Vending machine,Lifts
Interactive kiosks
Documents:
You can purchase this product from here: