This is a 4x100W audio amplifier board with a new AudioB plus Bluetooth module that supports Apt-X. It has integrated 2xST high performance TDA7498 which supports dual channel audio amplification. Each channel is capable of outputting nominal power simultaneously and continuously. This board can be powered by any DC 14V-39V* power supply. Power input port can be power jack or screw terminal. The DC input jack is 2.5mm with positive core polarity and if you use screw terminal, please pay attention to the polarity!
It has a smart cooling system, the fan does not work in normal condition
to eliminate noise. The fan only starts when the chip temperature exceeds 65°C. Once the temperature goes down, the fan stop running.
It is perfect for your Hi-Fi audio application, the audio source can be RCA input or Bluetooth. It is compatible with all the Bluetooth devices that support media audio, including iPhone, Android,etc.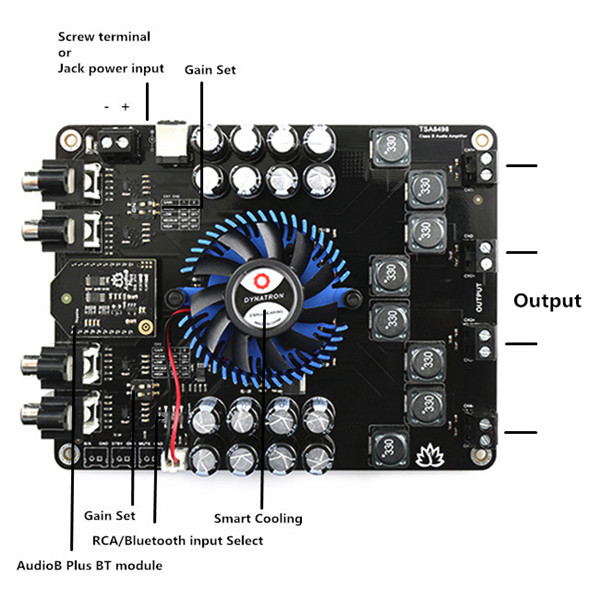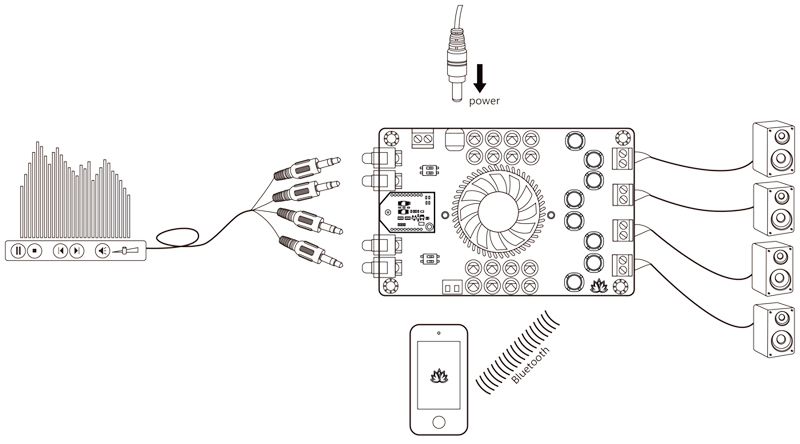 Note: We have tested it. It also works well with 12V DC power supply. But we suggest you to use DC 14V-39V power if possible.
Specification:
Following table lists all typical data of the Amp board. For full specification, please refer to the data sheet of ST's TDA7498 chip.
TA = 25 °C, fIN = 1 kHz sine wave, RL= 6Ω, VCC = 36V. (Unless otherwise stated)
Parameter

Condition

Min

Typ

Max

Supply Voltage (v)

–

14

36

40

Quiescent Current (mA)

FAN ON,STBY Disable

–

90

–

FAN ON,STBY Enable

–

50

–

FAN OFF,STBY Disable

–

40

FAN OFF,STBY Enable

10

Input Sensitivity (mV)

25.6dB

–

1356

–

31.6dB

696

35.1dB

460

37.6dB

341

Input Impedance (Kohm)

–

48

60

–

Gain (dB)

GAIN0 = L, GAIN1 = L

24.6

25.6

26.6

GAIN0 = L, GAIN1 = H

30.6

31.6

32.6

GAIN0 = H, GAIN1 = L

34.1

35.1

36.1

GAIN0 = H, GAIN1 = H

36.6

37.6

38.6

Output Power (W rms)

THD = 10%

–

100

–

Efficiency (%)

Both channels output rating power.

–

>90

–

Minimum Load (ohm)

–

–

6

–

Frequency Response (dB)

±3dB

20

–

22k

Operating Temperature (℃)

–

0

20

50
Features:
Size: 15.5cm x 11cm
Apt-X supported
Smart cooling system
Bluetooth 4.0
External mute control port
External Bluetooth/LINE IN control port
Working voltage: DC14V-39V
Over/under voltage protection
Over current protection
Over temperature protection
Applications:
Personal computer
Background music system
Musical instrument amplifiers
Car audio
Documents:
This product can be purchased from here: