Description: In the monostable mode, the 555 works as a "one-shot" pulse generator.  Other applications of monostable mode include timers, pulse-width modulation (PWM), missing pulse detection,  touch switches, frequency divider, capacitance measurement, bouncefree switches  and so on. 
The following schematic has been taken from buildcircuit.com. The following circuit can be used for making a touch switch, light operated switch, clap switch, dark sensor, etc.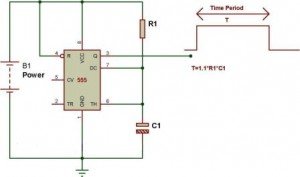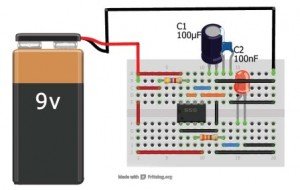 EXPERIMENT 1: DARK SENSOR USING LDR AND 555
Use VR1(variable resistor)  for adjusting sensitivity of the dark sensor. You can use fixed resistor in place of the variable resistor.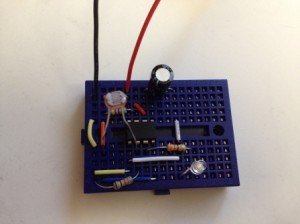 WATCH THE VIDEO: 

EXPERIMENT 2: DARK SENSOR USING PHOTODIODE AND 555
Just replace LDR with a photodiode, connect cathode to PIN 8 and anode to pin 2 of 555, it simply works for the photodiode also.
EXPERIMENT 3: TOUCH SWITCH
A minor modification in the circuit makes it work as a touch switch.
EXPERIMENT 4: MAKE A CLAP SWITCH