TSA3111 is designed audio amplifier factories and DIY users. Bluetooth/LINE IN select switch and audio input port are designed as JST connectors. So, users can install this amplifier board in a box and connect an external switch and RCA/Mono plug to make their own audio amplifier.
TSA3111 comes with AudioB plus Bluetooth module. It has perfect class-D architecture (based on TPA3110D2) and every channel has 8W power output. This board can be powered by any DC 8V-16V power supply, it can be used to drive any 4Ω or 8Ω passive speakers.
It is perfect for your Hi-Fi application, the audio source can be cable input or Bluetooth. You may wish to pair up the amplifier with a mobile phone or a computer that has Bluetooth function.
Power up the amplifier board, use your phone or PC to search for a new Bluetooth device, the module will appear as "BT Speaker", you can simply pair it up without a pin. Yes, it connects automatically with your device. You can then play your audio.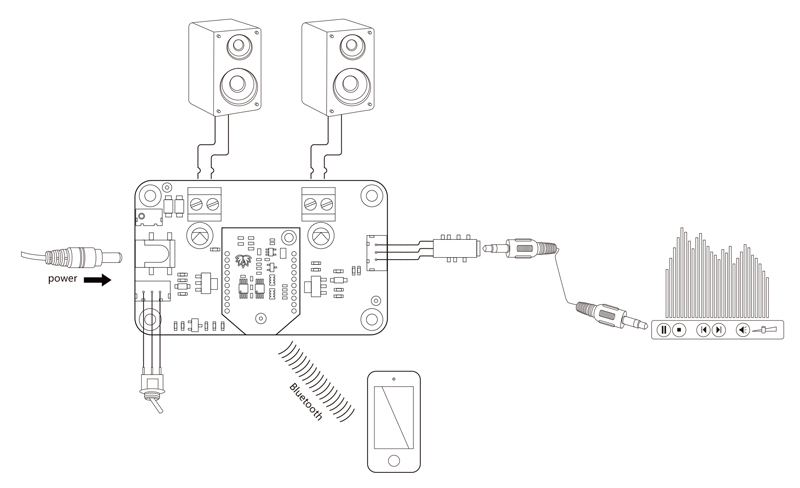 Specification:
TA = 20℃, fIN = 1 kHz sine wave, RL = 4Ω. (Unless otherwise stated)
| | | | | |
| --- | --- | --- | --- | --- |
| Parameter | Condition | Min | Typ | Max |
| Supply Voltage (V) | – | 8 | 12 | 16 |
| Quiescent Current (mA) | SD = 2V, No load, Vcc = 12V | – | 20 | 35 |
| Input Sensitivity (V) | Gain = 26dB | – | 0.283 | – |
| Input Impedance (Kohm) | – | – | 30 | – |
| Gain (dB) | – | | 26 | |
| Output Power (W rms) | THD+N = 10%, Vcc = 12V | – | 8 | – |
| Efficiency (%) | Vcc = 12V, RL = 8Ω, PO = 5W | – | 86 | – |
| Minimum Load (ohm) | – | 3.2 | 4 | – |
| Frequency Response (Hz) | ±3dB | 20 | – | 22k |
| Operating Temperature (℃) | – | -40 | 20 | 65 |
Features:
Size: 4.8cm x 8cm
An external mute control port
Working voltage: DCv8V-16V
Over/under voltage protection
Overcurrent protection
Over temperature protection
Bluetooth 4.0
Applications:
Personal computer
Desktop amplifier
Microphone preamplifier
Home DIY
Vending machine, Lifts
Interactive kiosks
Documents:
This product can be purchased from here: