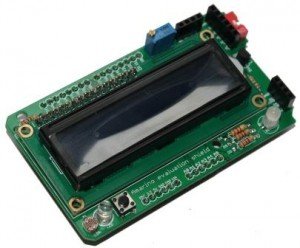 After the success of BuildCircuit's first Amarino Shield for Android-Arduino experiments, we are here with Amarino Evaluation Shield. I am grateful to all the customers and readers who purchased our first kit and gave us their wonderful comments.
About Amarino Evaluation Shield:

Amarino Evaluation Shield is for Amarino toolkit and most of the available Android VT-100 serial terminal emulators. With Amarino evaluation shield, you can test all the plugins of Amarino, practically speaking, you can do all the Amarino related experiments. Besides, you can try simple Android-Arduino experiments using Android VT-100 serial terminal emulators.
FOR BEGINNERS  🙂
Please follow the links and try the experiments if you are not familiar with Amarino.
a. Amarino– Understand Amarino and its features.
b. Amarino Experiment- RGB Multicolor lamp.
c. Amarino Experiment- Sensor Graph
And, if you have never done any experiment with Bluetooth, Android and VT-100 emulator, please check this tutorial.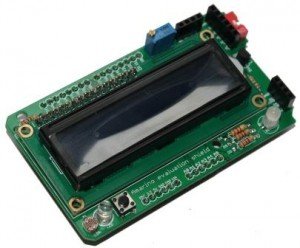 DIY KIT

Amarino Evaluation Shield is a DIY kit. The kit comes with the following components: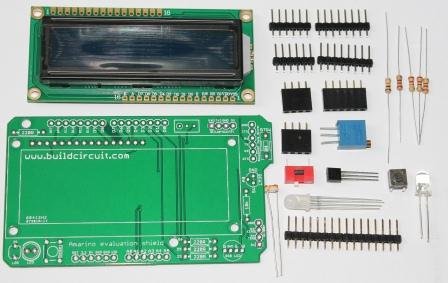 1. PCB
2. 16×2 LCD and 16 pin male header
3. LED, LDR and a current limiting resistor(220 Ohm)
5. RGB LED and resistors(220 Ohm) for it.
7. 4 pin female header– 2 pcs
8. 6 pin female header– 1 pc
9. Male header set for the shield- 6 pin (1 pc) and 4 pin (2 pcs)
Schematic:
Download circuit layout- Fritzing format
Download in pdf
In addition to this shield, you will need a Bluetooth adapter to experiment with Amarino. You can buy one of the following Bluetooth adapters:
a.  BlueSMiRF- Mate Silver:

This module is cheaper than other BlueSMiRF versions available at Sparkfun. The shield works with other modules also, but you can stack ONLY Bluetooth Mate Silver
 on to this shield. OTHER VERSIONS OF BLUESMIRF DOES NOT FIT WITH THE SHIELD.
b. General Bluetooth adapter: RECOMMENDED!
If you cannot afford BlueSMiRF module, then you can get a general adapter. This adapter is far cheaper than the BlueSMiRF module. It works perfectly with the shield and you can do all the experiments. BUY NOW
---
---
Features and Experiments:
As stated before, the kit has been designed for Amarino and other Bluetooth based applications. In addition, you can use it for stacking HC-SR04 ultrasonic range finder and experiment with that. Even if you don't know about Amarino, you can use it for LCD based Arduino experiments and other projects related to LDR, pulse width modulation (PWM), RGB LED, etc.
Display your SMS on LCD.
Send custom messages from phone and computer to Arduino via Bluetooth and display on LCD.
Experiment with phone events (for example, blink LED on phone calls).
Control RGB LED.
Display sensor graph on phone interface.
Display LM35 temperature sensor data on phone and simultaneously control the LED.
It supports the following Bluetooth modules:
---
EXPERIMENTS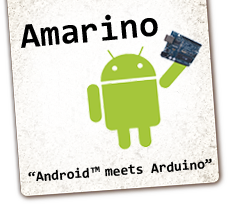 Experiment 1: RGB Multicolor lamp using Amarino evaluation shield
Experiment 2: Sensor Graph experiment
Experiment 3: Temperature sensor experiment
Experiment 4: Ultrasonic range finder experiment
Experiment 5: Display SMS on LCD
Many other experiments with ultrasonic range finder, Android serial emulator, etc.

---
Customers ordering the kit after 7.12.2012 will get the following kit. In the new kit, the switch has been moved, that's the only difference. All the components and connections are same.
New kit.
---
 Watch all the videos(Playlist):